Millie Boyle and Emma Tonegato, joint Dally M medalists, will lead the NSW State of Origin team set to face Queensland next month, with the bulk of the 22-man Sky Blues squad coming from NRLW Premiers Sydney Roosters and Grand Finalists St George Illawarra.
Seven players from the Roosters and eight from the Dragons have been chosen by head coach Kylie Hilder to represent NSW, with Illawarra second rower Kezie Apps captaining the team for a fourth consecutive year.
Hilder said there was no doubt the top two NRLW players would be selected for the squad.
"They won these awards for reasons," she said Friday.
"Emma has had an exceptional year coming back to rugby league and she is an x-factor player at the back there.
"Millie just did what Millie does every year, to be honest. She's been really good since leaving rugby union.
"I'm really delighted that these two players are part of this evolution."
The team will meet for their first training session on Tuesday as they aim to reclaim the Queensland Shield after narrowly losing 8-6 in last year's decider, which took place on the Sunshine Coast .
One of the unexpected inclusions is Sam Bremner, who missed the NRLW season to give birth to her second child but has since impressed for Cronulla in the NSW Women's Premiership.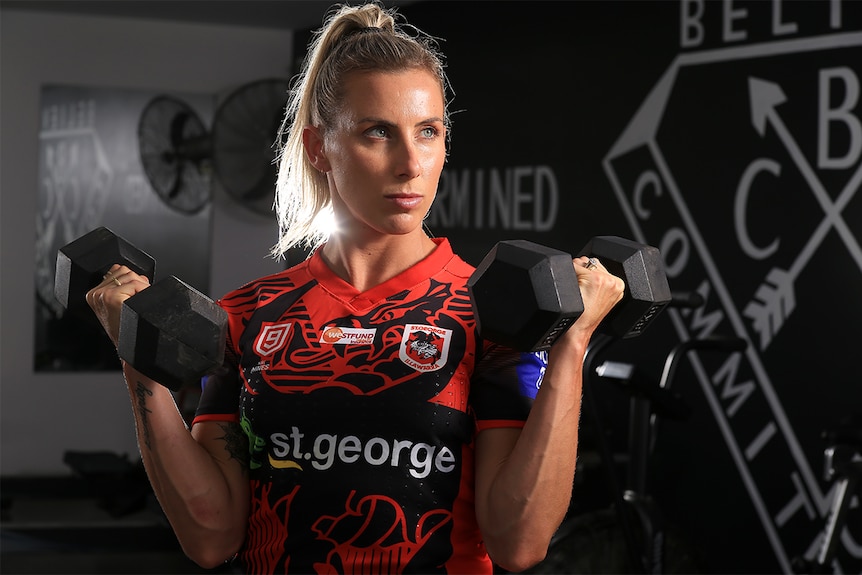 "We put her in the City-Country game a few weeks ago and she was outstanding," Hilder said of Bremner.
"It's not just what she brings to the pitch, it's what she takes out of it.
"She really brings the team together and, as you can imagine in Origin, you have a limited amount of time to get a group of players together to go play a game."
Hilder will reduce the squad to 18 players after camp ahead of the decider at GIO Stadium in Canberra on June 24.
NSW team (in alphabetical order):
Kezie Apps (c) (Dragons of St George Illawarra)
Corban Baxter (Sydney Roosters)
Shaylee Bent (Dragons of St George Illawarra)
Teagan Bay (Dragons of St George Illawarra)
Millie Boyle (Brisbane Broncos)
Sam Bremner (Cronulla-Sutherland sharks)
Keeley Davis (Dragons of St George Illawarra)
Kirra Dibb (Newcastle Knights)
Quincy Dodd (Dragons of St George Illawarra)
Filomina Hanissi (Parramatta Eels)
Talei Holmes (Dragons of St George Illawarra)
Caitlan Johnston (Newcastle Knights)
Isabelle Kelly (Sydney Roosters)
Olivia Kernick (Sydney Roosters)
Yasmine Meakes (Sydney Roosters)
Rachel Pearson (Dragons of St George Illawarra)
Tiana Penitani (Parramatta Eels)
Jessica Sergis (Sydney Roosters)
Hannah Southwell (Sydney Roosters)
Simaima Taufa (Parramatta Eels)
Sarah Togatuki (Sydney Roosters)
Emma Tonegato (Dragons of St George Illawarra)
Job , updated