Singapore may be the city of the lion, but if you plan on having fun, you can also enjoy tiger-themed activities around the island.
To quote William Blake, "Tyger Tyger, burning with a thousand fires, In the forest of night"; here are some places to visit and activities to do if you're on the lookout for tiger-themed activities in Singapore.
---
Tiger-themed activities in Singapore
Tiger mural at the Rail Mall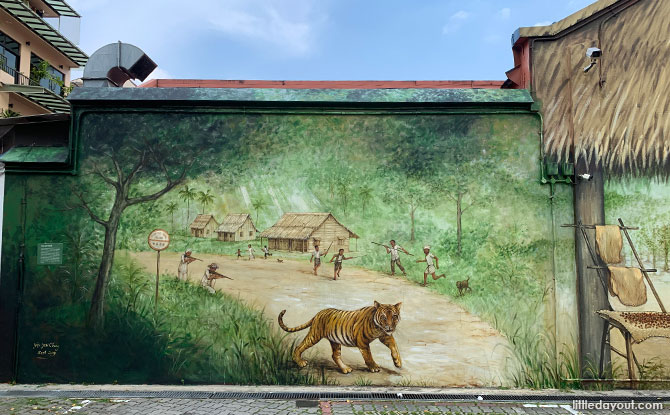 Painted on the wall of a store in the Rail Mall, a tiger hunting mural by Yip Yew Chong. It shows a time in the past when tigers roamed around the island. The Rail Mall is also a good starting point if you want to take a walk along the Rail Corridor. Get more details here.
---
READ: Go monster hunting at a children's festival during March Break
---
Bukit Timah Nature Reserve Visitor Center
At the foot of Bukit Timah Hill is the Visitor Center. While Rail Mall has a painting of a tiger, the visitor center has a glass display case with tiger specimens that will give you an idea of ​​what it must have been like to encounter one of these majestic beasts while strolling around in the forests of Singapore.
---
Tiger Balm Gardens
Haw Par Villa in Pasir Panjang Road is also known as Tiger Balm Gardens, named after the popular ointment on which the Aw brothers built their wealth. In fact, Aw Boon Haw's name means "gentle tiger". When visiting Haw Par Villa, look for statues of tigers and leopards (the latter representing his brother Boon Par) around the gardens. Get more details about Haw Par Villa.
---
Singapore Zoo Tigers and Night Safari
Visit the tigers at Singapore Zoo. Normally the home of the White Tigers, you can look for special appearances from Sulong, the 10-year-old Malayan Tiger, at the Tiger Trek on February 5-12, 2022. Alternatively, head to Night Safari to visit a family of Malayan Tigers . , including the brothers Sali and Arhaa who were born on December 27, 2020.
---
Bosch brand (forest fire)
One of the most spectacular depictions of tigers in Singapore can be found at the National Gallery Singapore. The image, Boschbrand, by Javanese painter Raden Saleh depicts a pair of tigers on the hunt but overtaken by a blazing inferno. Kids can learn more about it here with this guide, or visit the National Gallery Singapore to see it.
---
Tiger Brewery Tour
Head west to see how beer is made at the Tiger Brewery. Paid tours take place from Friday to Sunday and you can witness the brewing and packaging process. Head to the Tiger Tavern to sample the cold beers. Children under 18 are admitted only when accompanied by an adult and those 5 and under are admitted free. Get more details here.
---
Tiger Street Lab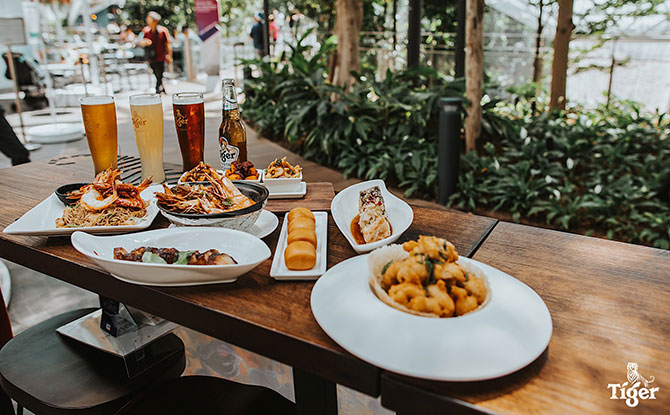 If you prefer your Tiger beer with food, fly to Jewel Changi Airport where you can enjoy food with beer at Tiger Street Lab. Choose between sea bass bites, Asian fusion pastas and locally inspired dishes. Tiger Street Lab also offers a children's menu, but without alcohol of course!
---
tiger playground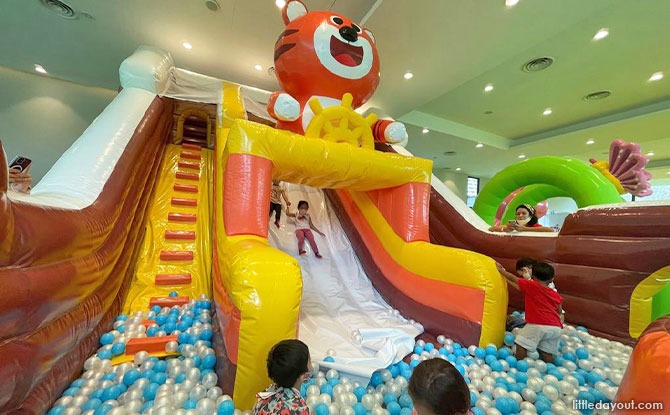 In the past, there were tiger-themed playgrounds around Singapore. These heritage playgrounds are now gone. Still, if the kids want some tiger-themed playground fun, you can head to Jumptopia: Wonder Garden at the Bayfront Pavilion, Gardens by the Bay. Go for a bounce on Tiger's River Cruise for a good time and enjoy the other 7 bouncy castles. Until July 3, 2022.
---
Tigress at Universal Studios Singapore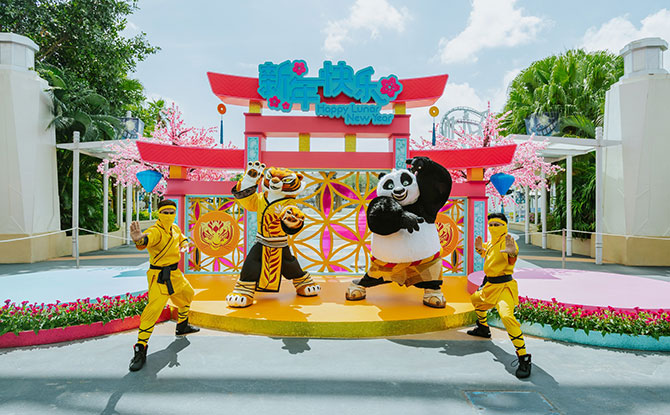 Kung Fu Panda's Tigress debuts at Universal Studios Singapore. A member of the Furious Five and an ally of Po, lay her down Tiger Kung Fu style by February 13, 2022.
---
Tiger butterfly hunt
For a challenge, go hunting for the common tiger butterfly in one of the butterfly gardens around Singapore. It has orange and white wings which give it its name. Spot it floating around bushes and shrubs in parks and gardens.
---
READ: Go monster hunting at a children's festival during March Break